KOMU 8's First Alert Weather Team is on Storm Mode 3 Tuesday night into Wednesday as we expect issues.
Follow the snow
4.45pm Tuesday: We are seeing some dry air as rain starts to move north. We could quickly beat this with rain turning to snow during the evening hours. #MidMoWx #MoWx #Midmo pic.twitter.com/jyilpD5IOs

— Matt Beckwith (@KOMUMatt) January 24, 2023
Rain will change to snow from the south to the north at the beginning of the night. Snow will continue through Wednesday, with most of the accumulated snow ending by midday Wednesday. Light fluxes last as long as possible throughout the day.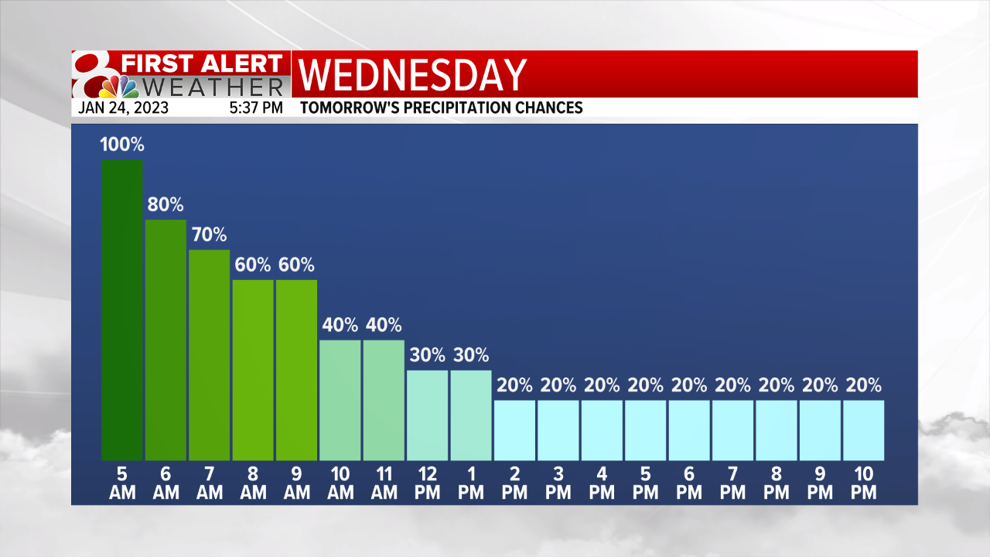 The system is the result of a low pressure system tracking across southeast Missouri. As this low pressure system moves a good distance away, we will see fewer impacts for most of the region. The greatest impact will be in areas south of I-44 where a winter storm warning is in place.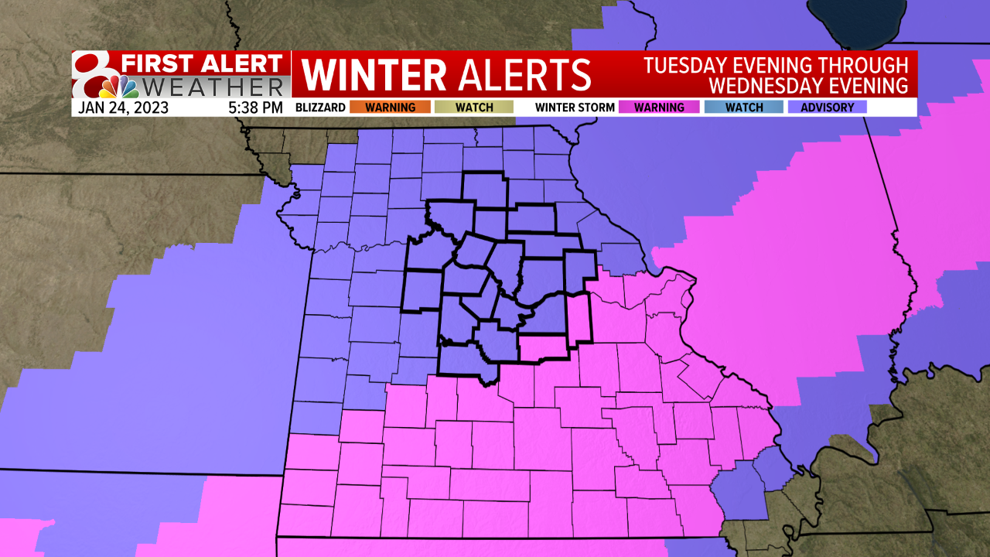 Snow total and uncertainty
This system is expected to be a big wave for the southeastern parts of the state. Temperatures are expected to reach the low to mid 30s during this event, meaning wet snow may melt at times after falling. We should also watch for any dry air that may move in with this storm, but that is not expected to be a major factor.
Most of mid-Missouri is expected to see 2 inches of snow, with some areas receiving up to 4 inches of snow. As you head south, a few areas of high density in the area cannot be avoided.
Snow amounts in the 4-7+ range will be possible for areas south of I-44, including all of southern Missouri, Rolla, Lake of the Ozarks and the St. Louis metro area. During the morning hours near I-44, snowfall amounts could approach 1 inch per hour. Traveling on this interstate can be difficult.
Areas in the northwestern parts of the state may only see a dusting of up to an inch of snow.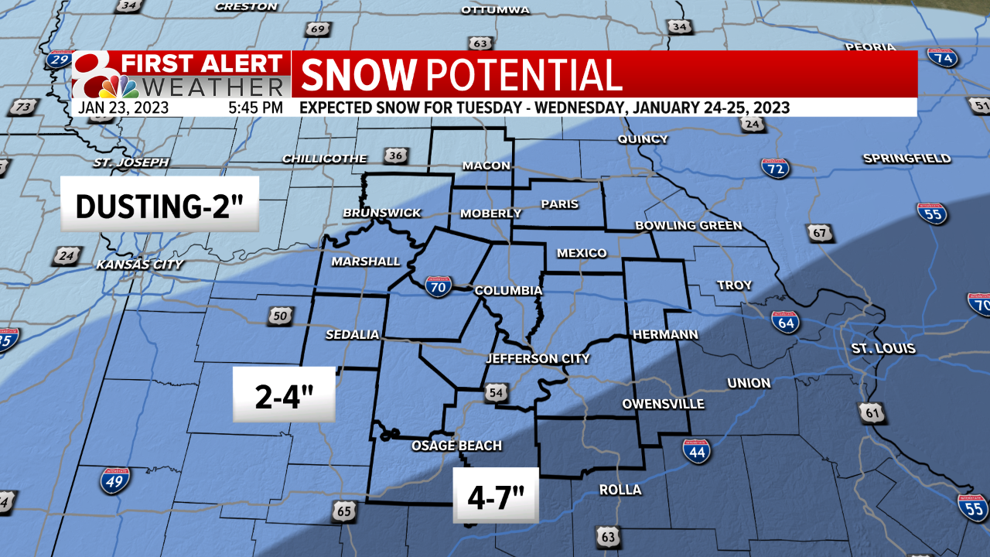 The KOMU 8 Storm Mode Index for this event will be at 3, which means we can expect issues, especially in areas south of Highway 50 near I-44. This won't be major snow, but it could cause slow travel Wednesday morning, especially for southern parts of the region.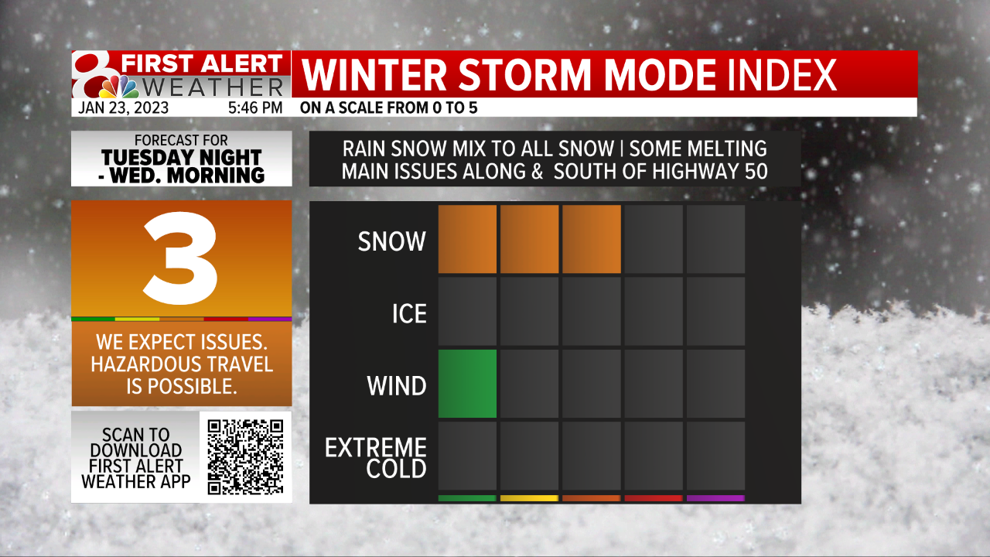 The effects of travel
The going is likely to be good through Tuesday night, but conditions will begin to deteriorate overnight into Wednesday morning. Roads will be wet and slick at first as the snow begins, but are expected to be covered in snow by Wednesday morning.
As this process begins as rain washes away the treatment, road crews have difficulty pre-treating the roads.
Travel could be worst on Wednesday morning. The snow will end by midday Wednesday, so conditions should begin to improve in the afternoon and evening with road crews working and temperatures above freezing.
If temperatures drop below freezing Wednesday afternoon, it's a good idea to take off your car, driveway, sidewalk, etc. The heavy, wet snow will freeze Wednesday night and become more difficult to handle Thursday.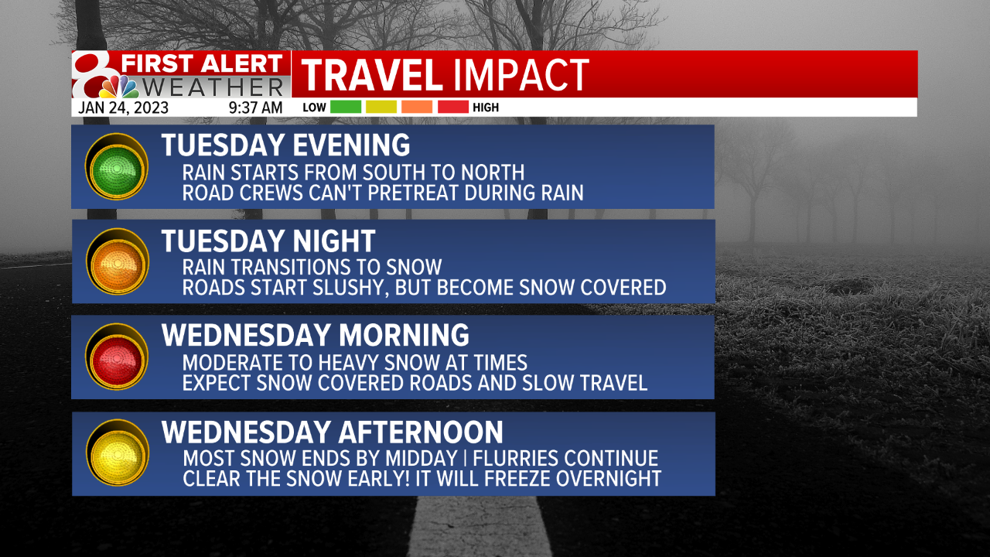 look forward
Thursday will be a cool day with morning temperatures in the mid-20s and highs in the 30s under cloudy skies.
Early Warning: All eyes on snow for the next few days, but let's keep an eye out for cooler temperatures early next week. Not expecting to be as cold as we had before Christmas, but definitely back to below average. #MidMoWx #MoWx #Midmo pic.twitter.com/lrVI1ZzYve

— Matt Beckwith (@KOMUMatt) January 24, 2023
We'll be warm Friday and Saturday with a good amount of snow melting before another chance of rain/snow returns on Sunday.