Disclosure: This post may contain affiliate links, which means we receive a commission when you click on the links and make a purchase.



Break out the credit card and collect all your airline rewards points because we're traveling first class!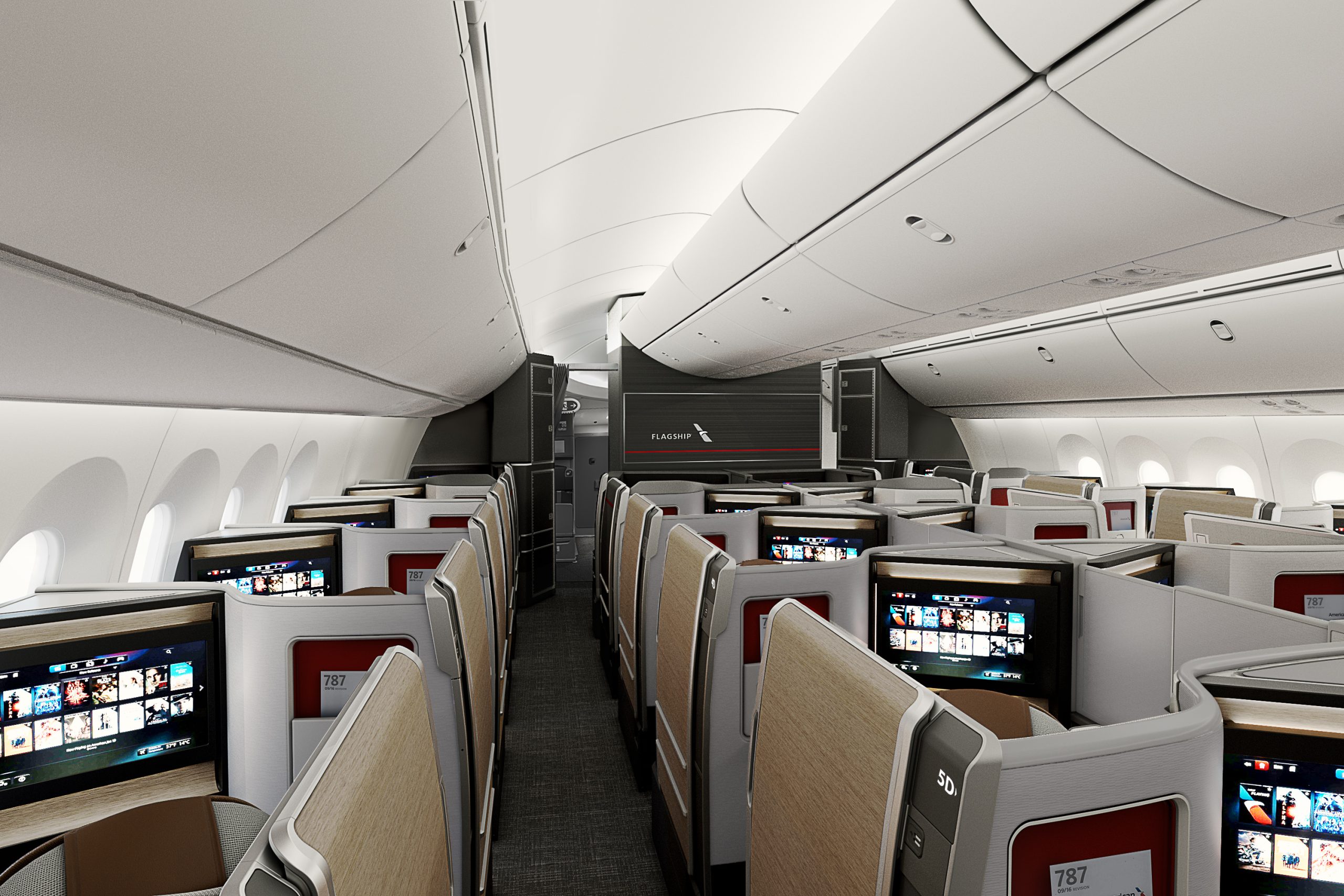 Oh, first class isn't in the budget? Same, reader, same! So join us as we explore some simple things in Amazon to improve your travel experience.
Here are some of our top picks!
First class doesn't mean you don't have to pay extra for your luggage. Whether you're overpacking or needing to bring multiple bags, make sure to maximize your luggage space with these compression bags.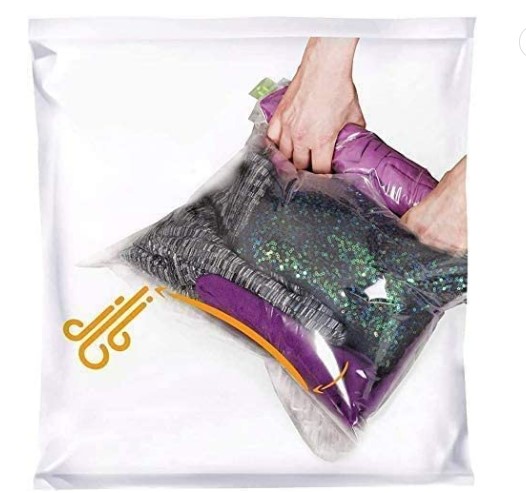 The best part about these bags is that you don't need a vacuum or pump to use them. So, when you're packing everything up at the end of your trip to go back home, you don't have to beg and plead with the housekeeper to use the vacuum, just roll these little cuties, split!
Click here to purchase Roll Up Compression Bags
Whether your journey takes you to the skies or a trip down Route 66, the Twist Memory Foam Travel Pillow will help you get rid of the aches, pains and cramps that come with long hours in the same place.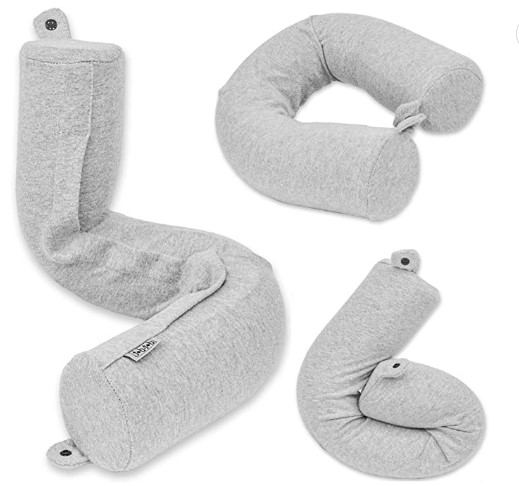 Unlike most traditional travel pillows, this curved travel pillow contours to any shape and position you desire to provide personalized support and pain relief. Talk about first class comfort.
Click here to purchase the Twist Memory Foam Travel Pillow
Keeping your devices charged and ready when you travel is fundamental. Travelers use their phones for travel essentials like GPS maps or checking into flights and hotels. Not to mention the importance of entertainment! So it's extremely important to keep everyone's gear charged!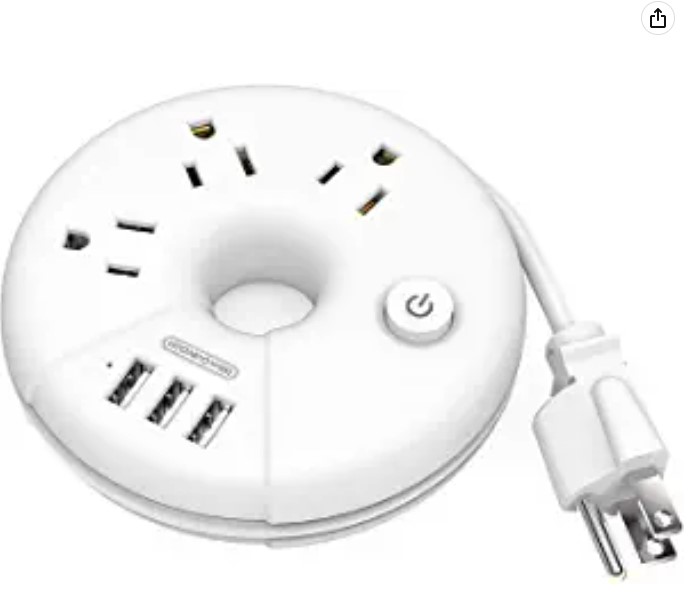 This 3-socket, 3-USB charging station is convenient for charging multiple devices, and the coiled charging cable makes it an extremely compact and lightweight travel companion.
Click here to purchase a USB portable charging station
This treasure is perfect for flights with kids. Just open the table and set it up in seconds. The foldable design makes it easy to pack into a carry bag and take anywhere.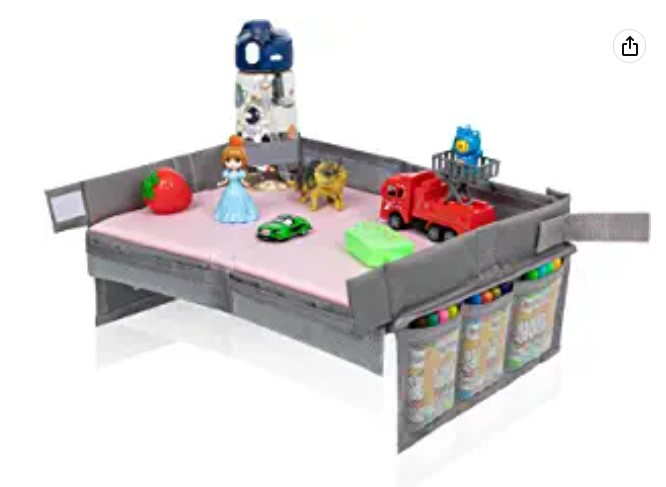 This travel tray attachment helps keep kids and snacks on the tray. It has a fully enclosed universal design, with 5 mesh pockets and 4 small long nets and bottle holders, snacks and toys are well organized. Plus, you only need to tie a strap to secure it to the plane's table, so even if the plane is bumpy, nothing will fall to the ground. A great way to keep kids entertained on flights and to keep lost little toys from being left in the plane's seat pockets.
Click here to buy a children's travel tray for the plane
If your trips are in the car instead of high, your child may need a different entertainment center! Check out this seat organizer that is equipped to store bottles, phones or power banks or tablets, magazines, snacks, toys and other travel essentials. Specially designed pocket for tissue box or wipes, easy-to-reach nozzles or spills. Your kids will definitely feel their travel experience is enhanced with this addition!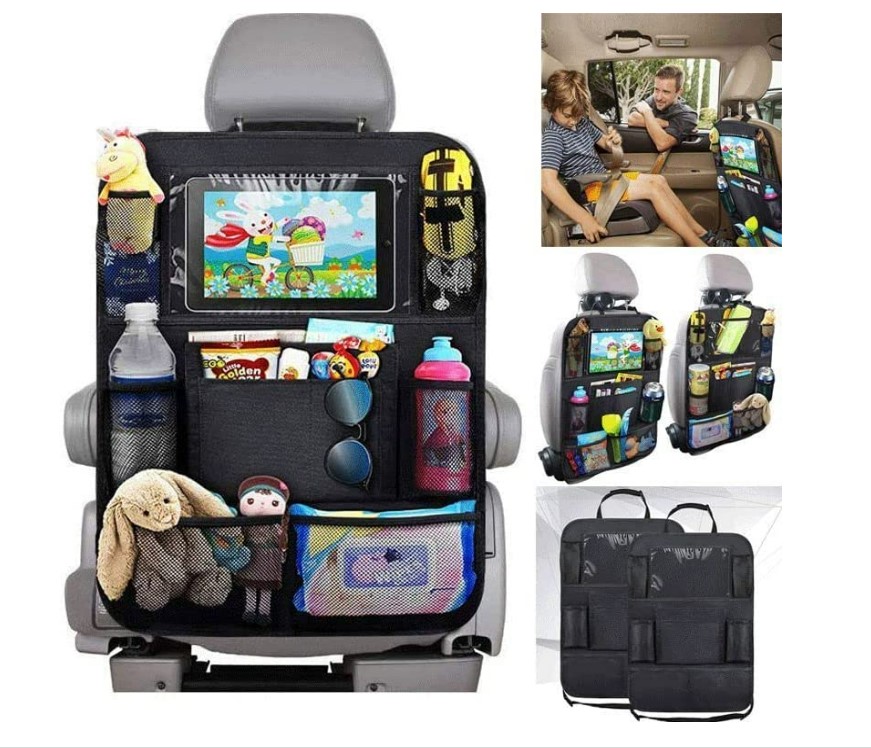 Fill this organizer with toys and snacks to keep your little one on the go! And bonus points for headphones, so if your tyke wants to watch Attractive You don't have to listen to it 900 times again!
Click here to buy a car storage organizer
Another road tripping option to pass the time and improve your travel experience is the fun car games. Everyone loves road trip games, right? And who says you have to wait until you get to your destination to make memories? Start making those family memories as soon as you finish these family-friendly trivia games.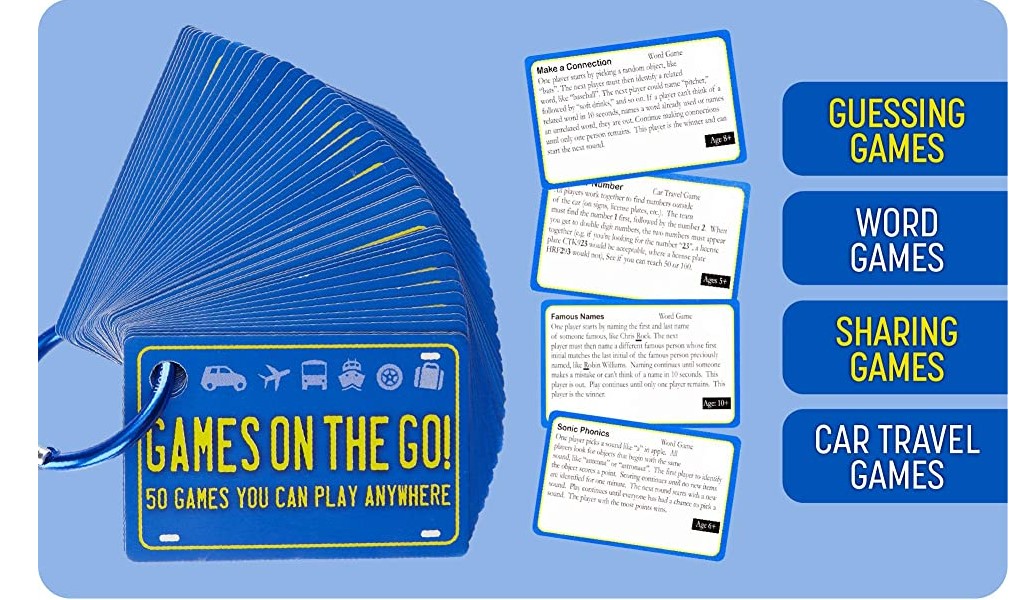 With everything from guessing games to sharing games included, this will help transform your travel time from a simple road trip to a memorable one.
Click here to buy Games on the Go with Next Games for $9.99!
This little travel accessory is perfect for any adult or child, in fact, you might want to buy it for the whole family! So, the next time your flight attendant instructs you to "set and wait your desk," you're still in full travel mode.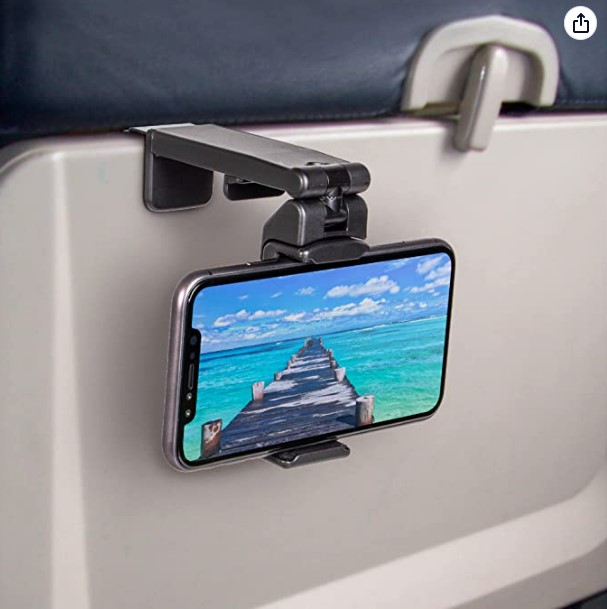 This phone case has a sturdy mount to mount your phone to any desk, luggage case, even gym equipment, or objects up to an inch and a half wide! The phone holder makes it easy to keep your hands free to help with the kids or relax. Hands-free entertainment is a great way to travel.
Click here to purchase the Universal Airplane Phone Holder Mount
Now, we're talking luxury! This is the perfect combination of eye mask and headphones. If you long to sleep on long flights, but struggle with cabin noise, these little beauties can help you get that first-class sleep. Whether you want to take a dose while listening to your favorite audiobook or podcast, or just put on some ambient music or white noise, this sleep headphone eye mask will give you that experience.
The eye mask is equipped with sponge eye "cups" so if you're blessed with super long lashes or just don't mind the pressure on your lashes, this mask will help keep you comfortable.
Click here to buy sleep headphones
The ultimate upgrade to our travel experience is this scarf. It keeps you comfortable in the cold airplane cabin, and has handy tips to keep it from slipping in different patterns or positions when you're changing or moving.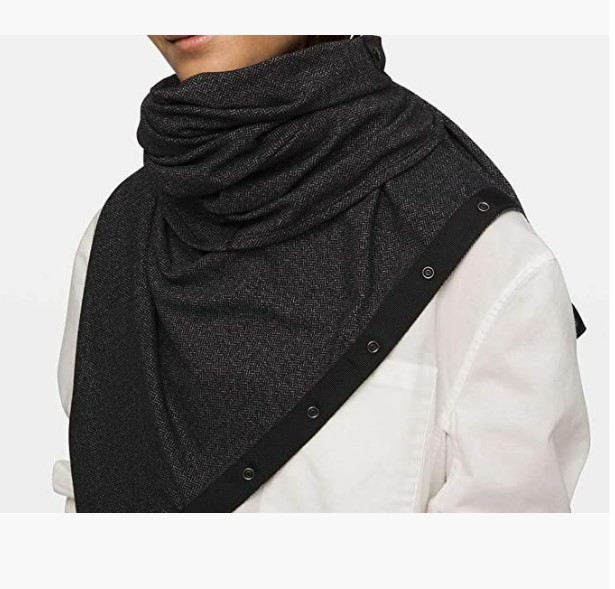 It's fashionable, it's comfortable, and it can be a health tool too! We're past the point where everyone wears masks, and some may continue to do so, but if masks aren't your thing, you can always use this scarf to cover your mouth and nose to prevent breathing in germs. Or for a more subtle tip, spray some perfume or cologne on top to inhale your favorite scent instead of the recycled air from the airplane cabin.
Click here to buy the Lulu Lemon Vanyasa Scarf
Stay with AllEars for more travel tips and news! We're always looking for ways you can experience it while you travel – whatever your travels are!
Thinking about going to Disney for a vacation? Don't miss a thing!
More information about all the holiday events at Disney World
Join the AllEars.net newsletter to stay on top of all Disney news! You'll also get access to AllEars tips, reviews, trivia and more! Click here to subscribe!

What are your favorite travel essentials? Let us know in the comments!